3 Reasons Why Your Accidental Death & Dismemberment Policy Will Leave Your Family Empty-Handed
So you got an Accidental Death & Dismemberment Life Insurance policy?

Fantastic, something is always better than nothing, but if you're in great health and have the ability to qualify for a Term or Permanent Life Insurance policy.

I would recommend reconsidering your Accidental Death & Dismemberment plan.
Here's why:
Your Accidental Death & Dismemberment Plan Has Strict Claim Pay Outs
Quick story:

A young woman came to me to get life insurance and when I asked her why she needed it, she told me her grandfather passed away recently.

She went on to tell me that she would never get an Accidental Death policy.

I asked her why.

She said, her grandfather, who had his policy for decades, passed away when he was showering.

He slipped in the shower, hit the back of his head. Really hard.

That wasn't what caused his passing.

The blow caused him to have a stroke, and since he was alone in the house, there wasn't anyone to call an ambulance.

Tragic…But it gets sadder.

She told me that when the family called to file a claim, they stated that since the accident didn't end his life, and a stroke did, the claim was rejected.

You see, an accident has to cause your passing, not trigger it or be the lead up to it.

You could look at this type of coverage as very niche.

The family was upset to say the least, and they tried to file an appeal, but the language in the life insurance contract did not cover strokes.

So how do you avoid her grandfather's situation?

Ensure you're getting a policy like Term or Permanent Life Insurance that will cover almost all deaths if that's what you want.

But, who's fault was it?

Who should we be upset with?

The insurance company?
The grandfather who purchased the policy?
There are individuals who you should really watch out for…
Most New Agents Sell These Policies Like They Are Real Term Life Insurance Policies
Unfortunately, time and time again, I'll complete a policy review with a client and ask them the magic question.

What kind of life insurance do you have?

I get two kinds of responses from the vast majority of people:

*crickets*
or
"I have a term life for…um…15 years?"

Not a good start.

I could chalk this up to people not knowing what they have out of ignorance or I could ask magic question #2:

Did the agent go over the life insurance with you?

Most will say no, they just told the agent what they wanted, and the agent told them where to sign.

Others will be upset to find out that they were in fact sold an Accidental Death & Dismemberment Policy instead of the term policy they wanted.

Happens more times than it should.

What's the solution?

Read the application after being filled out and the final policy to ensure you're getting what you want.

I'm not going to say that Accident policies don't always pay out, but 9 times out of 10, the odds aren't the best, because…
Accidental Deaths Aren't The Leading Cause Of Death In America
You heard that section title right.

Fortunately, or maybe unfortunately, accidents aren't the leading cause of death, they are third on the list out of the top ten.

And, not very strong out of all of the ways you can possible pass away.

Words can tell a story, how about I show you: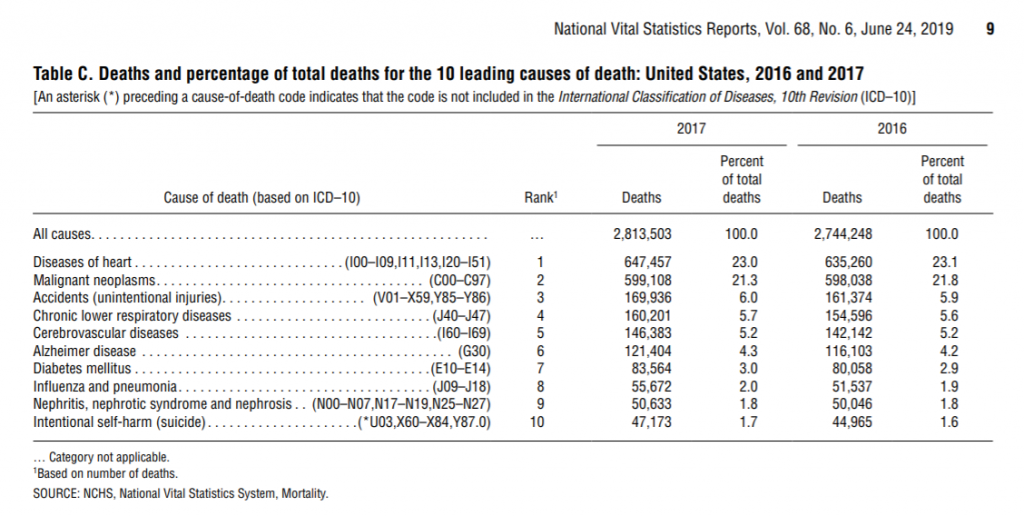 The numbers don't lie, you're more likely going to pass away from a heart attack or cancer before an accident.

Not to sound morbid about it.

Even then, let's say that you miss the accident that would have gotten you, there's 6 other conditions that can get you.

And, guess what?

Ding, ding, ding.

All 9 of those other conditions your accident policy will not cover.
Take a look at the statistics if you like here:
https://www.cdc.gov/nchs/data/nvsr/nvsr68/nvsr68_06-508.pdf

However, the odds are very slim for individuals after age 45 to pass away from an accident.

The funny part I find is that most of the people who have this type of policy are this age group and older. Figures.

Solution?

If anyone were to find value in this type of policy it would be the danger seeking, adrenaline junkies between the ages of 17-35.

Once you have a family and a career, odds are you're not skiing every weekend with a beer in one hand, and a crossbow in the other.

With that in mind, it is better to have a policy that covers all of these.

Why risk it?

Pay a few dollars more a month and get the coverage that will actually leave a benefit to your family.

If you want to find out what quotes for term and permanent life insurance would like for you, fill out a quote or give us a call.